Corporate Show Info
Bluenosers bring the show home
2008-07-23 00:00:00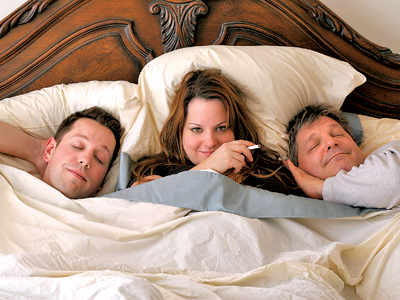 Bluenosers bring the show home
DEAN LISK, METRO HALIFAX
July 22, 2008 05:00

Peter Anthony, left, Tracey Macdonald and Mark Walker are the Bluenosers Comedy Tour

It's her, lying in bed with two men, but Tracey MacDonald's father still posted it on the family fridge in Dartmouth.

"We all have clothes on," said the comedian. "I thought my dad wouldn't like it, but I decided to send it anyway. My dad and everybody had a good reaction to the poster. It is really funny."

MacDonald is sharing the bed with Pictou's Peter Anthony and Truro's Mark Walker, and all three are in the region this week as part of the Bluenosers Comedy Tour.

They will let the jokes fly at Alderney Landing Theatre on Thursday night.

"The photo was done at Peter's mom's place in Toronto, and she is a typical Maritime mom saying 'Is everything alright? I ironed the sheets,'" MacDonald said. "It was all really funny."

She said the idea for the tour - the tagline is Nova Scotia's Funniest Threesome - developed while all three were recently back on the East Coast.

"It's cool, I was home for Christmas, and we were playing Yuk Yuk's together," said MacDonald. "We were thinking we should do a tour in all our hometowns, because Peter was saying he had played Pictou before, and sold it out."

A past CBS Star Search grand champion, MacDonald currently lives in Los Angeles, where she is performing in local comedy clubs and touring. Anthony recently had a special on CTV Comedy Now, while Walker has been showcased on Comedy at Club 54.

"I think this is going to go well, and maybe we can play Western Canada," said MacDonald.

"Because we are Maritimers, but there are a lot of Maritimers out there."
Preview 2015: Are you versed in the medicines you are taking prescription or buy for yourself at the
Canadian pharmacy
? Experts believe that even the basic knowledge, such as the right dosage, interactions with other drugs or food may be critical to your health and even life. Today, people take more medications, prescription and non-than ever before, and the medical community is seriously concerned about the lack of information regarding the consumer they have taken drugs.
Studies have shown that only half of the patients taking the medication as directed in the recipe or in the instruction. Very many, especially the elderly and people with low education, not easy to read the drug information contained on the insert, and even more so to understand it. The more you know the medications and more often questioned about them by their doctors and pharmacists, the more likely to avoid problems.
So, before you leave the doctor's office, ask him a few questions about prescription drugs.