Corporate Show Info
Fundraising Shows
2012-10-01 00:00:00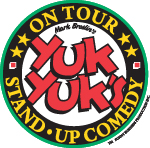 Fundraising: Let Yuk Yuk's On Tour Bring the Laughter to your City!

What do Community service organizations, Sports teams, Schools, Youth groups, Firefighters, Hospitals and the Royal Canadian Legion have in common? They have all raised thousands of dollars by hosting a Yuk Yuk's On Tour fundraiser for their organization.

A Yuk Yuk's Fundraiser is easy to plan and more fun than selling cookie dough door to door.

All comedians on your show would be selected with your audience in mind. We can suggest some options for you, then you can read the comedians' bios and watch sample video clips to create the exact show you are looking for!

If you have concerns about language or content, we can discuss restrictions to meet your group's needs. While shows seen in our clubs are uncensored, we realize that your show may have some boundaries and the comedians on our fund raising circuit are professionals who are made aware of your concerns.

Since the comedians who would perform at your event are the same award winning comedians you have seen on t.v. and at comedy festivals, hopefully you could fill your venue and make a nice profit for your cause.

You could combine your Yuk Yuk's On Tour show with a dinner, dance or a silent auction as well, - and people usually bid more on silent auction items after they've had a few laughs!

Call 1-800-899-9136x232 or email bookings@funnybusiness.ca to discuss how Yuk Yuk's On Tour can help put the "fun" in your next fundraiser!