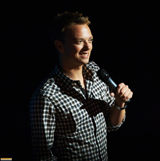 Login
for Additional Talent Info
(photos, videos)
If you do not yet have a user login,
register here
.
Video on Trial, CONAN, Big Brother Canada

Trevor Boris is the star of MuchMusic's Video on Trial now in it's 9th season, and recently made his US Late Night Debut on CONAN. He has made numerous appearances on Just for Laughs, and is currently a Producer of Big Brother Canada.