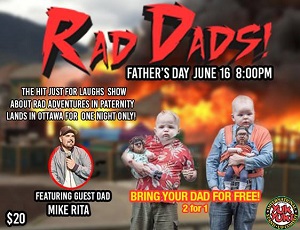 Login
for Additional Talent Info
(photos, videos)
If you do not yet have a user login,
register here
.
After debuting at the 2018 Just For Laughs festival and taking the east
coast and Toronto by storm, Walter Lyng and Reese Turner are kicking off
2018 with a brand new edition of RAD DADS right in the heart of the nation's
capital! They've traded in their lives of degeneracy for diaper changes and
Father-of-the-year mugs. Join Walter and Reese along with some great guest
dad comics and maybe even a rad MOM for the best night of paternal humor
you've ever experienced.