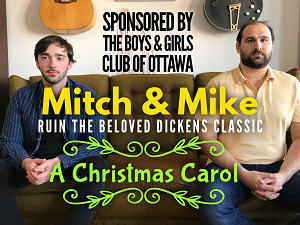 Login
for Additional Talent Info
(photos, videos)
If you do not yet have a user login,
register here
.
This holiday season the viral comedy duo Mitch & Mike interpret (and destroy) the Charles Dickens classic "A Christmas Carol"

Join us on December 16th for a travesty that will be sure to upset your friends and family for years to come!

Tickets are $10 or better yet, admission is free if you bring a toy for donation to the Angel Tree Gift Program organized by The Boys & Girls Club of Ottawa.

Ebenezer Scrooge (played by Mike) is a real piece of shit and is visited by 3 ghosts for some reason to help set him on the path of Christmas or something. Mitch is Bob Cratchit and one of the ghosts I think. We haven't written it yet and it's sure to be a total disaster. See you there!