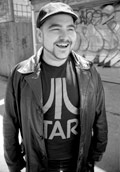 Login
for Additional Talent Info
(photos, videos)
If you do not yet have a user login,
register here
.
Ben Miner's a funny guy. He's performed at the Just for Laughs Festival in Montreal, been featured in the New York Times, toured coast to coast and he`s also an on-air host at SiriusXM Satellite Radio's Canadian comedy channel Laugh Attack He`s incredibly comfortable on stage, has well-written original jokes and can go in and out of the crowd with ease.
After you`ve seen Ben perform you`ll feel like you`ve spent the evening with a buddy. He's been performing for nearly half his life – he's hip, witty, clever and polished. Ben loves to make people laugh, bottom line.