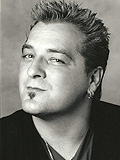 Login
for Additional Talent Info
(photos, videos)
If you do not yet have a user login,
register here
.
Since 1986, Stephen Cox has been considered one of Canada's leading comedy talents.
Additionally, Stephen has toured nationally in support of product launches for Nintendo, the Labatt's Blue Zone, Budweiser's Boxing Tournament and Pernod's Tour de France.
From construction workers to corporate bigwigs, Cox is clearly comfortable in front of any crowd. His non-offensive, observational and insightful style of comedy has propelled him from a run-of-the-mill club comic to a convention planner's dream come true.
Even more important, his on-stage performances repeatedly garner standing ovations and encores from audiences across Canada and abroad.