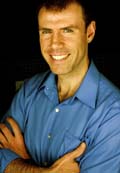 Login
for Additional Talent Info
(photos, videos)
If you do not yet have a user login,
register here
.
Originally from Kingston, Ont. Chris did not begin his comedy career in Canada. In fact it began in the Far East, on a little island called Taiwan. After graduating from Ottawa University in 1999, he went to this tiny ocean locked nation to spread the good word of English. After watching an amateur open mic night at a foreign run bar, Chris was inspired and set to task becoming a comedian. After successfully producing his own shows he left Taiwan in 2006 and returned to his native Canada. The journey continued as he worked his way up through the amateur ranks and finally got his wish on November 10th, 2009 to become one of Yuk Yuk's newest comedians.
Chris' comedy has been described as clean, yet a bit edgy. Always entertaining and he brings a lot of energy to the stage. He has multiple TV appearances with his favorite performance being on the Jon Dore Show.