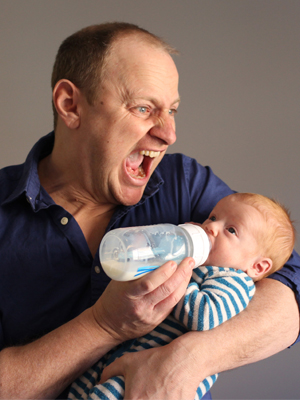 Login
for Additional Talent Info
(photos, videos)
If you do not yet have a user login,
register here
.
IAN SIROTA has opened for: Jerry Seinfeld, Jim Gaffigan, Dennis Miller, Robin Williams and Dana Carvey and headlines comedy clubs across North America. Ian was a regular cast member and writer for COMEDY INC, COMEDY NOW, GUTTERBALL ALLEY and many more! Ian has been nominated for not one but two GEMINI AWARDS including "BEST COMEDY PERFORMANCE" This sharp tongued, take no prisoners comic can also blend in observational humour with a family focus all the while mastering the audience with lightning crowd work. A perfect fit for any fundraiser or corporate event Ian has been a regular contributor and was the winner of DYNAMIC FUNDS Humour Me COMEDY COMPETITION that pits CEO's against other CEO's under the tutelage of a comedian all in the name of raising funds for underprivileged kids.
Client Remarks:
"Thanks again for a great show. The entire Engineered Assemblies and Praxy team truly enjoyed laughing and getting laughed at throughout your set. Thank you for your direction in getting the most out of the crowd; it turned out really well." -Engineered Assemblies
"Ian... We wish to thank you for doing an exceptional job with about as tough an audience as you will ever meet. As you found out the audience was certainly varied and many of them very conservative by nature. Additionally I really appreciated your taking on the master of ceremonies duties and you performed exceptionally well with this task. It certainly shows your versatility and ability to think fast on your feet. To have you interject humour with such varied topics as you did certainly places your abilities at a high level indeed." - Blue Line Expo
"Just wanted to say thanks! Ian was a hit at our event on Saturday... everyone left with a huge smile on their face!" - Alano Social Committee
Testimonials
"Hi Tony, It was a great time and the comedians (Ian Sirota and Dan Guiry) were perfect. We couldnt have asked for a better group to entertain us. We really made my wifes birthday. Thanks so much. "
-Tim M
"I just wanted to send you quick note to say how great the comedians were last night! We all had a fantastic time, and I thought they all did an excellent job. Especially with how tough of a crowd the cops can be sometimes. John was a great MC loved his stories... and Ian did an excellent job at closing the show with non-stop laughter. "
-Laura J, Event Coordinator, York Regional Police Association