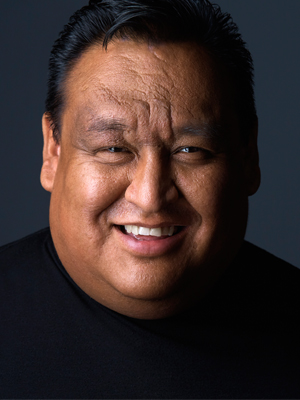 Login
for Additional Talent Info
(photos, videos)
If you do not yet have a user login,
register here
.
Howie Miller is one of the funniest corporate and club comedians in North America. He is a First Nation Descendant of the Cree Nation and was born and raised in Edmonton, Alberta, Canada. His quick wit and unique point of view on multi ethnic stereotypes is enjoyed by all audiences, regardless of age, race, or sex; and has garnered numerous television appearances and placed him in great demand on the corporate comedy circuit.

Howie's hilarious routine, mixed with stellar impressions has the audience laughing from start to finish. His stand-up routine also includes entertaining stories about his son's overnight success playing a member of the wolf pack in the blockbuster Twilight Movies: New Moon, Eclipse and Breaking Dawn (part 1).

In 2010 Howie joined the "Pow Wow Comedy Jam" and they have received acclaim all over North America, earning "Entertainer of the Year" honors by the National Indian Gaming Association and "Comedic Performance of the Year" at the National Indigenous Awards in New Mexico. Howie was featured in the Showtime television special No Reservations Needed and he can be seen on CBC in the Winnipeg Comedy Festival: Welcome to Turtle Island 2 and in his own half-hour comedy special, Comedy Now! Presents Howie Miller.

Howie is also an accomplished comedic actor and writer and has been nominated for a Gemini award for the sketch comedy show Caution: May Contain Nuts which is currently airing its second season on APTN. Howie was also nominated for "Best Actor" at the 2011 Canadian Comedy Awards.
Howie's side-splitting stand-up comedy routine, quick wit and unique ability to read the crowd make him perfect for any function. He leaves the audience rolling on the floor laughing and begging for more!