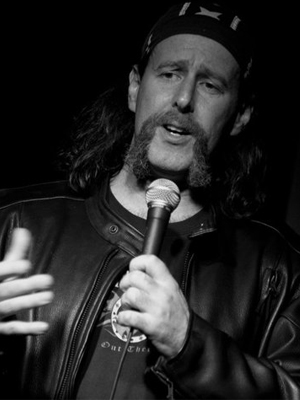 Login
for Additional Talent Info
(photos, videos)
If you do not yet have a user login,
register here
.
Don't be frightened by Mike's long hair and biker moustache, he's a normal person just like you and I – only hilarious.

After years of bouncing from job to job – factory work, the construction trades, graphic design and finally the advertising industry, Mike had enough. Vowing never to go to a barber again, he decided to become a rock star, realized he had no musical talent, and decided to become a drummer instead.

It was only after spending thousands of dollars on a drum kit and realizing he didn't have any rhythm that Mike decided it would be easier to tell jokes, and began his career as a stand-up comedian.

Unlike a lot of other comedians who tell jokes about normal every day experiences, Mike doesn't lead a normal every day life. With an uncanny ability to pick the wrong friends, Mike often finds himself interacting with people in a sector of society most people are fortunate enough to never see – or have the common sense to avoid.

Whether Mike's doing a ride along with a leg breaker for a loan shark, hanging around with giants, strippers, ex-convicts and future ex-convicts, one thing's for sure – this is one act and stand-up comedian that you will want to see again and again.