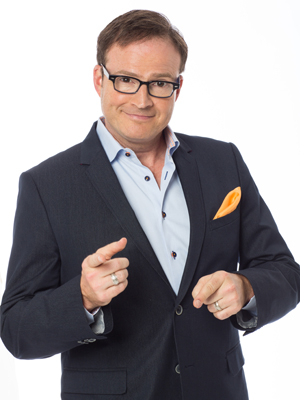 Login
for Additional Talent Info
(photos, videos)
If you do not yet have a user login,
register here
.
Steve Patterson first set foot on the stand-up comedy stage at the age of 18 on a dare from his university dorm mates. Though that first set was well received, he spent the next several years finishing his university degree in business and earning a post-graduate diploma in Media Copywriting. He continued to perform comedy part-time while earning a living as a full-time advertising copywriter from 1994-1996.
In 1996, Steve was fired from his full-time copywriting job for shamelessly trying to inject humour into an ad for an amusement park. He joined the touring roster of Canada's premiere comedy booking agency, "Funny Business", later that same year. After less than one year of performing as an opening act, Patterson was promoted to headliner status in Western Canada and shortly thereafter began to headline in the ultra-competitive Toronto market.
In 1998, Patterson's idea for an "above the belt comedy" show was accepted for the Toronto (Peoples') Comedy Festival. Steve was featured along with a select few other comedians who were able to get through an entire 45 minute set without reference to genitalia.
In 1999, Patterson performed at the prestigious Just For Laughs Festival in Montreal for the first time, where his Irish-influenced set prompted his first tour of the Emerald Isle.
Between1999-2004 Patterson performed non-stop across Canada, Ireland and the United Kingdom with additional stops in the United States and the United Arab Emirates. He also began an illustrious streak as being the only non-Maritime comic to be invited to the Halifax Comedyfest four consecutive years (2002-2005) and also made his first Just For Laughs gala appearance (2004). In 2004, Steve also performed at the Edinburgh Festival in Scotland where his showcase performances earned him invites from U.K. based production companies to return for a full festival run.
The year 2006 marked Steve Patterson's tenth full year as a professional comedian and it was happily his most successful yet.
First of all, Patterson was selected to host the Just For Laughs Road Tour throughout Ontario. His performance there was so well received, he was invited back to the Just For Laughs Festival in Montreal for a third time this past summer. There, he hosted Best Of The Fest shows as well as the inaugural Comedy Showdown, pitting top comics from around the world against each other. A highlight of the Showdown turned out to be the banter between Patterson and the esteemed panel of judges that featured Jimmy Carr, Andy Kindler and Dom Irrera. Patterson boldly held his own with these firmly ensconced international headliners.
Patterson also took part in his fifth consecutive Halifax Comedyfest, taping a fourth television gala for CBC and recording his own hour-long national radio program entitled Talking Funny with Steve Patterson.
He wrote and starred in CBC television pilot The Truth About…a tongue-in-cheek examination of hot button topics. He headlined the highly coveted Investor's Group Comedy Tour playing to rave reviews at sold-out theatres in 25 Canadian cities.
Along the way Patterson also solidified his place as a top performer and writer in several national Canadian comedy festivals and awards shows.
In 2007 Patterson expanded his boundaries in both geography and material with trips to Australia, Scotland, California and of course back and forth across Canada with his one-man show, Much Friendlier Fire.