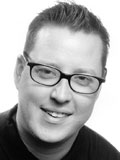 Login
for Additional Talent Info
(photos, videos)
If you do not yet have a user login,
register here
.
Jason first hit the comedy stage at the urges of his friends in 1994 at Yuk Yuk's Comedy Club in Ottawa, Ontario. Within just a couple of months he had already earned an honorable mention in the Ottawa portion of the Search for Canada's funniest comedian. Jason later went pro in 1997 performing at various venues across Canada.
In 1999 Jason had won the Ottawa portion of the Just for Laughs "Craven A's One Step Closer to Hollywood" competition, awarding him a spot at the prestigious annual Just for Laughs Festival in Montreal. The following year Jason won the preliminary Ottawa portion of the Yuk Yuk's Search for Canada's Funniest Comedian competition. He then proceeded to grab third place in the finals in Toronto and in doing so caught the attention of JFL, earning him yet another performance at the prestigious Festival. In addition to touring and performing his own eye on pop culture, Jason also dabbles in theatre and films. His latest film, "Hacks", written and directed by Greg Lawrence creator of Kevin Spencer.