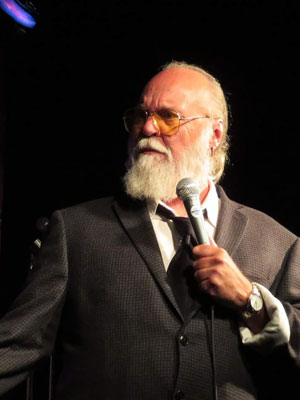 Login
for Additional Talent Info
(photos, videos)
If you do not yet have a user login,
register here
.
Richard Glen Lett aka Optimus Rhyme is 2013 Canadian Festival of Spoken Word National Slam Poetry champion, Toronto's "Word On The Street" Poetry Slam Champ 2013 and 2014, and runner up Champion's Cup Slam 2013 and 2014, and is a prominent and dominant force in Ontario, Canada and North America Slam Poetry and Spoken Word Community.

A recent recipient of the Lead Actor Award at the LA WebFest for his starring role in the WebSeries Pay Up he is also an internationally touring headliner stand-up comedian for 25 years, having worked with Robin Williams, Chris Rock, Dave Chapelle, Janeane Garofalo and Zach Galifianakis and acted in television with Jessica Alba and Michael Chiklis. His comedy is heard regularly on SiriusXM radio. His first two stand-up comedy CD's are titled, "Am I Being Insensitive?" and "At Least There's Drinking!" He is seen on TV shows Supernatural, Dark Angel, The Commish and The Firm and has frequent performer and co-host of the Being Frank late night TV talk show with Frank D'Angelo. As a playwright, Richard has twice received a Jessie Richardson Award nominations for "Most Outstanding Original Play".

Richard continues touring as headline comedian for YukYuk's, but most recently debuted a new one man show – developing a show using a variety of spoken word – story-telling, poetry, stand-up comedy and original music. The show called "Sober But Never Clean – recovery has never been this entertaining" tells how Richard got into stand-up comedy, how it almost killed him, and how he does it sober now. This show was performed at the King Haven Treatment Center for Men in July 2014, (where Richard's recovery from alcoholism and addiction began) and is toured nationally in Fringe Theatre Festivals, as well as in Treatment Centers in the spring and summer of 2015.

In December 2014 Richard received standing ovations on his feature tour of Southern Ontario Poetry Circuit. Hollie Painter, poet and producer of the London Poetry Slam, described the feature performance this way:

Holly Painter's review of Optimus Rhyme (aka Richard Lett's) feature set at the London Poetry Slam December 19, 2014.
"Richard received a rare standing ovation at our show, and for good reason: mixing humour with hard-hitting emotional content, he grabbed our audience's attention and didn't let go. His ability to make the crowd laugh and reflect simultaneously by sharing intimate personal stories mixed with hilarious jokes is unparalleled; he has a unique talent in rolling poetry, comedy, and story-telling together, and I know I speak for many when I say I hope to see him on a stage near me again soon."

Holly is a three-time Grand Slam Champion and Director of the London Poetry Slam and has performed at four national spoken word festivals, a TEDx conference, and dozens of school and community events across Ontario.