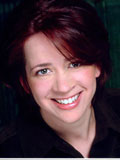 Login
for Additional Talent Info
(photos, videos)
If you do not yet have a user login,
register here
.
Look out! Jo-Anna Downey is a fearless, frank and sassy performer. This lady lives bravely - "doing it for the story" - and according to the Toronto Star, is a "storyteller par excellence... one of the most engaging women on the Toronto comedy scene". Her interactive, irreverent style and quick wit will shock and delight.
Known as "Mama" to all, only brave (and foolish!) drag queens would dare to compete for her crown as the Queen of the Toronto Open Mic scene - she has been hosting two successful and beloved weekly stand-up comedy shows for nearly 15 years. She's even been voted by the people of Toronto as their favourite stand-up comic in NOW Magazine and her lovely face graced its cover!
Jo-Anna's credits include tours across Canada, Just For Laughs Festival in Montreal and Toronto, appearances on CBC, the Comedy Network, the Discovery Channel and CTV's comedy special Women of the Night (which earned a 2002 Gemini nomination). She's also a regular radio program panelist (Chick Chat with John Oakley, CBC's The Debaters).