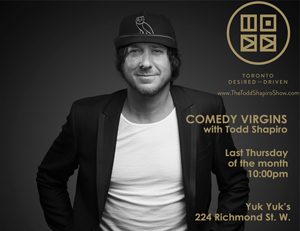 Login
for Additional Talent Info
(photos, videos)
If you do not yet have a user login,
register here
.
In a live podcast, The Todd Shapiro Show interviews 3 top comics in a candid setting learning about their experiences and how they broke their Comedy Virginity. As well, 1 person who has never attempted stand-up comedy will get their shot at "crossing one off the bucket list" – breaking their Comedy Virginity!

Todd Shapiro with the help of Yuk Yuk's, wants to inspire people to live outside of their comfort zone, and attempt something they've never attempted before – Live Stand-Up Comedy. This is different from an open mic, as these Comedy Virgins are only hoping to do comedy once – not make it a career! A fireperson, a Bay St type, a hamburger flipper, a TTC bus driver or an Olympian – anyone that you may know who has a sense of humour and always regrets not trying stand-up at least once now have their shot!!!