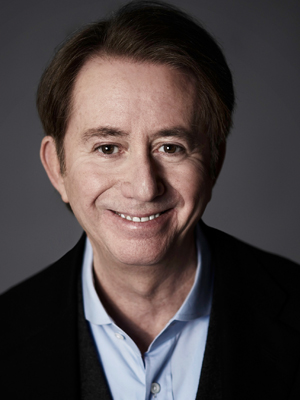 Login
for Additional Talent Info
(photos, videos)
If you do not yet have a user login,
register here
.
Mark Breslin has built a career and world class reputation in Canadian Comedy. In 1976 he opened the first Yuk Yuk's comedy club and it has since grown into the largest chain of stand-up comedy clubs in North America. Some of the most successful comedians today such as Jim Carrey, Howie Mandel and Norm MacDonald got their start at Yuk Yuk's.

On December 29, 2017, Mark was appointed a Member of the Order of Canada by Julie Payette, Governor General of Canada. The Toronto Star named him as one of the 180 most influential people to be born in Toronto.

No topic is off-limits for Breslin, and audiences will be impressed with his quick wit and irrefutable magnetism. Breslin is cheeky in his approach, but listeners can't help but absorb lessons about success in a tough business, and how to find the humour in any situation. Breslin has expanded his interests to include being a TV and radio writer, producer, talk show host and best-selling author and performer. Amongst his successful endeavours was his move to Hollywood where he was the producer of The Joan Rivers Show. In addition to that he authored Son of a Meech in 1991 and later in 2000 he made the best-sellers list with his second book, Control Freaked.

In 1998 he co-founded the Humber School of Comedy where he serves as the producer in residence, and the artistic director of the Humber College Comedy Workshop. If this wasn't enough, Breslin then took on the role of programming director for the Laugh Canada channel on Canadian Satellite Radio where he gave both new and established Canadian talent national and international exposure.

Breslin is still very active in finding the next new "big thing"; he has, and always has had a keen eye on what the world needs to see next. Mark Breslin brings a unique style to the usual Speaker Topics with his Comedy As A way of Life and Adventures in Entrepreneurship.

Comedy As A Way of Life
``You don`t just perform comedy; you live it. It`s something you do onstage and off; whether you're in the business or not; and anyone with the nerve can do it.

Adventures in Entrepreneurship
"Entrepreneurship isn't just about money or success, it's an extreme sport"

Motivation for the Highly Unmotivated
Breslin offers a bracing, funny, but useful alternative to the usual motivational lecture. Utilizing his own experiences and case histories, he shows how you can sleep until noon, party like it's going out of style, delegate the dirty work, and still be successful in your chosen field - if you choose the right field! Includes a debunking of The Secret and other so-called "positive thinking" seminars.
Testimonials
"Yuk Yuk's co-founder, Mark Breslin, had the room laughing as he shone a light on how Jews have turned to humour as a survival mechanism and how humour is a vehicle for Tikkun Olam. Mark hit all the right notes – his presentation was poignant, relevant and funny. My husband said he was just going to stay for the reception; he stayed for the entire show and is now putting Temple Sholom's Spring Fundraiser on his calendar for next year. WOW! As you know, as a people, we aren't afraid to complain. But there was nothing to complain about! Every attendee who called the office post event raved about the show. [Mark's] talk perfectly melded with the theme of the evening. All I can say is that we truly loved it & you Mark hit all the right notes. His presentation was poignant, relevant and funny. Mark was a pleasure to work with, both before and during the event. [Mark] read the audience and delivered brilliantly capturing the essence and history of Jewish comics in Canada."
-Temple Sholom - "Inspired to Act" evening