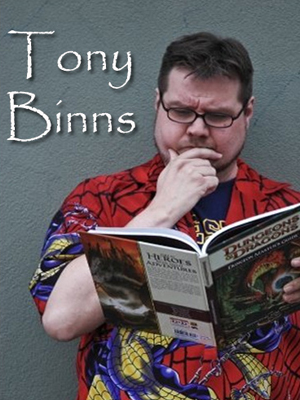 Login
for Additional Talent Info
(photos, videos)
If you do not yet have a user login,
register here
.
It's the ultimate revenge of the nerd! Tony's self-deprecating style and myriad of voices and impersonations leaves audiences in stitches. It's a "nerd's eye view" of the world that only a grade "A" geek can provide. In addition to doing stand-up, Tony is also a founding member of the sketch comedy troupe Obscene but not Heard, the evil geniuses behind the shows "Jihad me at Hello" "Cirque Du So Lame." and "Fahrenheit 7-11" . He was a contributing writer the hit show Cocktales, for which he was nominated for a Betty Award, and was recently a smash hit at the Calgary Comic Expo.
Tony takes witty pokes at pop culture, and pop culture icons. Trust us, by the time he's done with Kermit the Frog, we guarantee you you'll never look at Sesame Street the same way again. See why the Calgary Herald called his work "wickedly funny!", and Calgary Magazine said he was "...arguably the best stand up comic in town"